ISME is hosting the European Community of Marine Robotics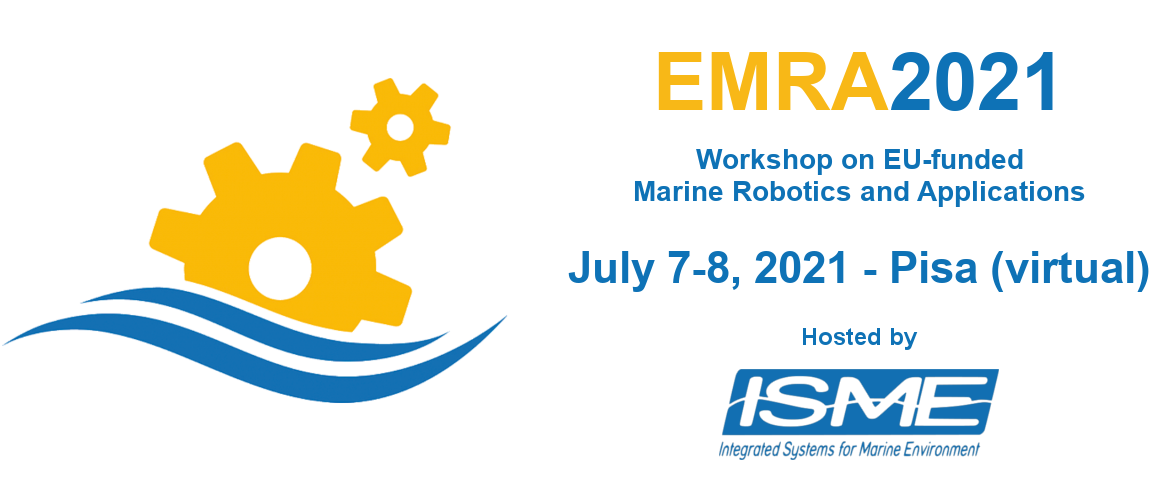 EMRA2021 is going to take place virtually hosted by ISME at the University of Pisa
On next July 7th and 8th the European Community of Marine Robotics is going to meet online during the yearly Workshop EMRA (EU-funded Marine Robotics and applications).
Following the success of previous EMRA workshops (CNR-Rome 2014, IST-Lisbon 2015, NCL-Newcastle 2016, VICOROB-Girona 2017, UL-Limerick 2018 and IFREMER-Toulon 2019), ISME, the Interuniversity Center of Integrated Systems for the Marine Environment, Italy, will host EMRA2021.
After the cancellation of EMRA2020 due to the worldwide pandemic, the EMRA Organising Committee strongly wanted to confirm EMRA2021. 
For the first time EMRA will have a Policy Session involving as Speakers:
Emilio Fortunato Campana, Chair of IRAG "Blue Growth" – Waterborne TP
Maria Cristina Pedicchio, Member of the Commission Expert Group – EC – Mission Board for Healthy Oceans, Seas, Coastal and inland Waters
Andreea Strachinescu, Head of Unit – EC – DG MARE – Unit A.1 – Maritime Innovation, Marine Knowledge and Investment

They will provide a wide spectrum complementary vision on the achievements and the future of the European research on Marine Robotics and Applications.
You can find also, as usual:
Many EU-funded projects
Industrial presentations:
Two keynote presentations:

Richard Camilli, Woods Hole Oceanographic Institution, MA, USA
Maaten Furlong, National Oceanography Centre, Southampton, UK
The complete programme is available at this link